FIREPLACE, HEARTH, FLOOR MEDALLIONS and more...
Mosaics are wonderful additions to many more areas of the home, from wall art to floor medallions. Fireplace mosaics are a great way to showcase this medium as they they beautify and serve a purpose as well, placed on the hearth, around the firebox and over the mantel.
| | |
| --- | --- |
| I don't have any images of this mosaic installed over a fireplace, but this was created for a wildlife biologist and his family. | Rockport scene, this mosaic hangs over a fireplaces in a beautiful home in Rockport, MA. This is roughly the view out the window with a little artistic license thrown in for good measure. |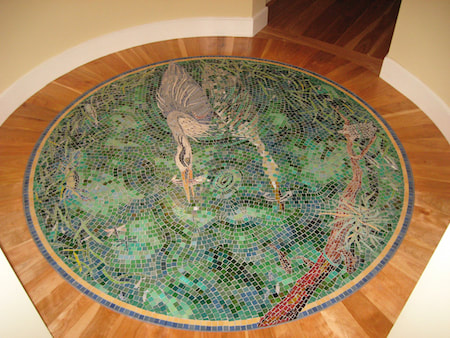 Chesapeake wetland scene floor medallion, this mosaic is in a room that connects the older area of a home and the new addition. I really like the reflection of the underside of the Great Blue Heron and the water ripples.
A fireplace surround for a shoe lover, all shoes were researched and some have interesting stories...this is in Palo Alto, CA and I unfortunatey never got any pictures of it installed.

---

My guidelines for this mosaic fireplace surround was for it to be colorful and bright. Again, no final picts, in Charleston, WV.

---
---