____________________________________________________________________________________________________________________________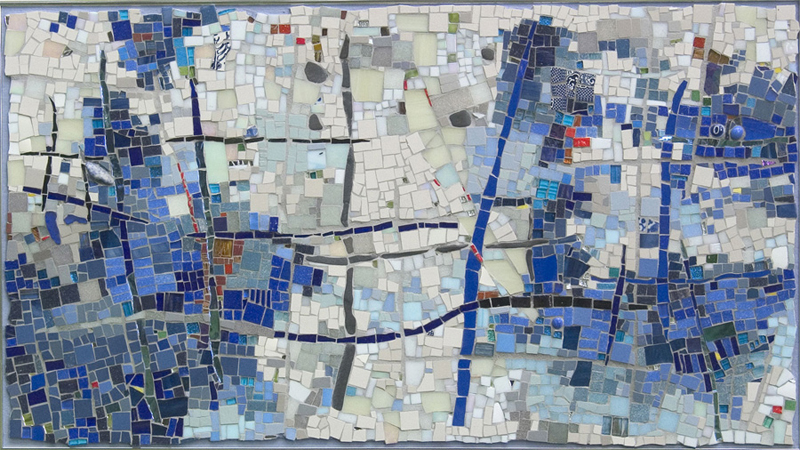 Pavement Fractals, 2009
WELCOME!

At BIG BANG MOSAICS I specialize in creating contemporary fine art mosaics. From public art to private commissions, school residencies and teaching workshops for children and adults, mosaics are my world. I encourage you to visit my Big Bang Highlights page for an overview of my work.

I am one of 19 mosaic artists included in a new book,'Mastering Mosaics', order here at Schiffer Books
I am just back from Quetzaltenango, Guatemala where I did a community mosaic project. 'La Camioneta', or 'Chicken Bus' , the subject of the mosaic, is the main form of transportation for people wanting to traveling to and from the rural areas. I will be adding a webage soon...

My son Rory did a wonderful job filming me for a short youtube clip for MOSAIC ART NOW that extolls the virtues of LATICRETE, manufacterer of thinset and grout, and much beloved by mosaic artists everywhere, take a look!

2013 Gallery Shows:
'Surfaces Trade Show', Las Vegas, January 28 - 31 Well not exactly a gallery show, but I was invited to create a 42" h x 30"w mosaic for Laticrete using their product SpectraLOCK Dazzle grout. My piece can be viewed on my fine art abstracts page.
'Trans-Position: An Ancient Medium in a Contemporary World' an exciting invitational: "The topic is open to interpretation and expansion, and we encourage artists to take an experimental approach to the work(s) they submit for exhibition." Currently on my table, I will be posting my work for this show soon... INscape, Seattle, WA March 21-May 24, 2013
'Signatures– 15 Artists Making Their Marks in Mosaic' another invitational, this is a follow-up of sorts to a great mosaic show on the Cape in 2011. Visit the Signatures website! HIghfield Hall, Falmouth, MA, July 10 - September 1, 2013
"Mosaic Exhibition" (title TBD), July 7 - October 27, Fuller Craft Museum, Brockton, MA. My series, "To Every Thing There is a Season" will be included in this exhibition which I am also very excited about. Since I sold my first version of Winter in the series, I decided to do another, quite different from the first, and it is on my fine art abstracts page.

Workshops:
My 'away' workshop schedule for 2013 is now set, for details go to MOSAIC WORKSHOPS . Additionally I offer mosaic classes and weekend workshop intensives in my studio here in Buckland. Email me if you are interested in a Buckland workshop, they will be offered based on interest and as my schedule permits. More info on MOSAIC WORKSHOPS page.
________________________________________________

say hello on my Big Bang Mosaics FACEBOOK page.

email: Cindy@BIGBANGMOSAICS.com
CYNTHIA FISHER copyright 2012 ALL RIGHTS RESERVED