COMMUNITY MOSAIC PROJECTS
Community Mosaic Projects are fun! I particularly enjoy working with a variety of age groups. Most of the images in this group are from the Shelburne Falls Mosaic Murals Project which I worked on in 2009-2010. There are 12 mosaics located on the sides of buildings in Shelburne Falls, and Buckland, MA, my home town. Volunteers ranged in age from
elementary, middle and high school students to Senior Center volunteers; installing the Shelburne mosaic.
This was a huge undertaking and you can read more about it in this written summary,
Shelburne Falls Mosaic Murals Project
. Below this grouping are a few other community projects I have undertaken.
ASHFIELD: with spire of town hall surrounded by Southface Farm, Ashfield Lake, Belted Galway cattle at Gray's farm, and Fall Festival.

HAWLEY: map of the town showing the forests and some of the wildlife in the area, image of the beehive kiln on the edge of Hawley State Forest. I know this forest well as I x-c ski, mountain bike and run there - and I can attest to personal sitings of all wildlife depicted, including black bear, moose, beaver and fox.

CONWAY: stone gristmill wheel as backdrop for the Griswold Library, Conway Pond, and Organic Roots farmer Dave Fisher farming with his draft horses.

CHARLEMONT: with Berkshire East Ski area, Avery's Store from an historic photo, rafting the Deerfield River with Zoar Outdoor, and the covered Bissell Bridge.
---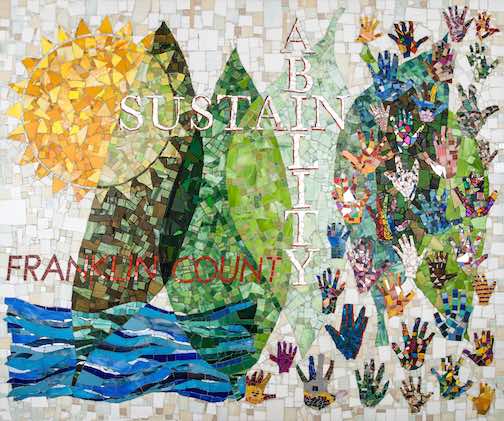 Sustainability, Franklin County MA, this mosaic is a community project in that a Greenfield, MA youth group made the hand component. This hangs in the John Olver Transit Center in downtown Greenfield, MA.